Investing in a trailer signifies your commitment to durability and longevity. Just like your vehicle, regular maintenance and inspections are essential to ensure the continued functionality of your trailer. The National Trailer and Towing Association (NTTA) advises that for average use, you should schedule a trailer service every 6000 miles or every 6 months, whichever occurs first.
In this article, we will outline the step-by-step process involved in trailer servicing and introduce you to Alaska Trailer's expert services—guaranteeing your trailers remain in optimal condition. With our team of highly trained technicians, we proudly provide quality services in Anchorage and the Valley.
STEP BY STEP TRAILER SERVICING
Trailer is put up on a ramp or jacked up.
Wheels are removed.
Brakes, brake shoes, bearings, cables, tires are all checked for faults, adjusted and lubricated where necessary.
Tires are fully checked for wear and tear, cracks, and damage. Pressure is also checked.
Side panels, sides and seals are thoroughly checked, and bodywork is checked for rust and cracks.
Lights, wiring, and junction box are checked for damage: breaks in the cables, fraying etc.
Couplings and the damper are fully checked for faults.
Suspension checked for wear and tear.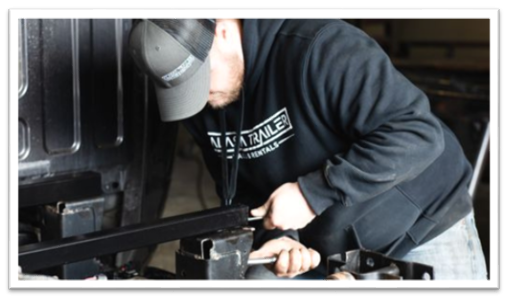 To safeguard the safety and reliability of your trailer, it is crucial to prioritize regular inspections, maintenance, and servicing. At Alaska Trailer, we offer complimentary inspections to keep your trailers in optimal condition. Our experienced team of technicians specializes in maintaining and servicing various trailer brands, including CharmaC, Iron Bull, Norstar, and Sure-Trac. With our dedication to quality services, you can trust us to keep your trailers in tip-top shape.
Contact us today and experience the superior service we proudly offer in Anchorage and the Valley.